Submit your own local pictures
Have you a favourite picture that you have taken in the area?
Why not submit it to us for inclusion on this page. Just let us know the subject of the picture, when you took it and, if you would like your name included as an acknowledgement, we will do that too.
We would like to concentrate on pictures taken around the Bullocks Corner, Websters Falls Park, Spencer Gorge, Tews Falls and Spencer Creek area.
Send your photos as email attachments to oldstonegallery~at~gmail.com
Replace the "~at~" with the usual "@" sign. Just trying to avoid spambots trawling this site for email addresses!
YOUR Picture Gallery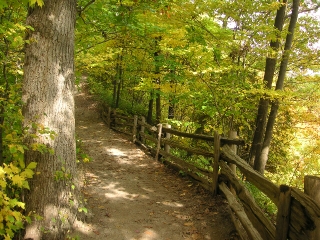 Bruce Trail view from Fallsview Road.
Picture by Norman Best.